cyclopaedia.org
Lexicon Technicum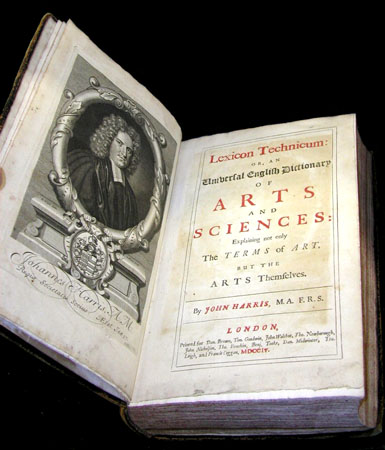 Lexicon Technicum:



or, an Universal English Dictionary of Arts and Sciences:

Explaining not only the Terms of Art, but the Arts Themselves

Harris, John.(1666-1719)



London: Dan. Brown, Tim. Goodwin, John Walthoe, Tho. Newborough, John Nicholson, Tho. Benskin, Benj. Tooke, Dan. Midwinter, Tho. Leigh, and Francis Coggan, 1704 VG- all things considered, some darkening to a few of the plates and one conspicuous section [sheet 6G2 forward to about sheet 6Q2], as seems typical with this edition of this title. Folio 8.7 x 13"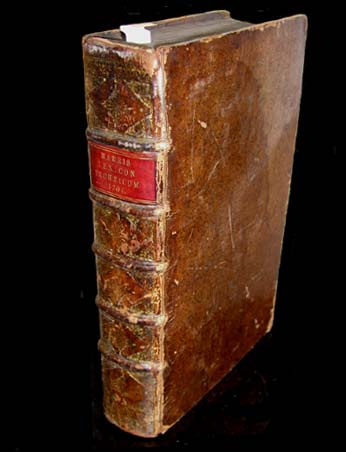 Original old calf leather, acid sprinkled, 5 raised bands with gilt tooling in the 5 of the 6 panels (somewhat faded). Reddish leather with gilt printing in the second panel. Red sprinkled page edges. Normal nominal wear to corners and bands, front cover firmly attached, but cracked the entire length. Same with rear cover, only not cracked the entire length.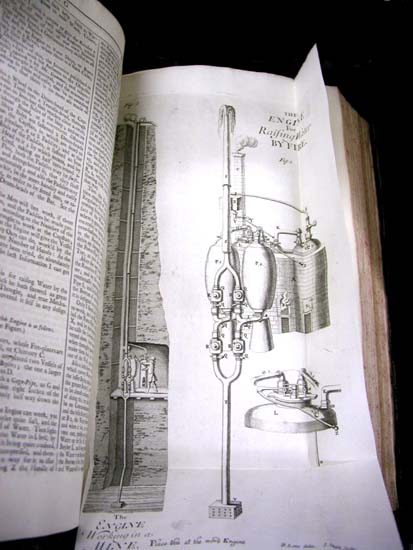 Plates as follows: Engraved plate of Harris opposite title page; Hawksbee's Barometer, followed by a crank-driven airpump plates preceding sheet D; Anotomical plate precedes sheet F; Architectural Columns plate precedes sheet H2; Characters Chymical printed at top of sheet opposite sheet R; Engine For Raising Water by Fire, precedes sheet Ddd; Fortification (browned) two leaves preceding sheet Lll; John Marshall's New Invented Double Microscope opposite sheet 5I2. Includes a copy of the Sotheby's auction catalogue from 1959 in which this item was last sold. Large engraved bookplate of the Bridgewater Library inside front cover, no other ownership marks.



Kevin Mullen, Bookseller



P.O. Box 472

Marietta, Pennsylvania 17547

Tel:717.492.0092

Fax:717.492.0093

[Marietta, PA, U.S.A.]