cyclopaedia.org
Chambers's CYCLOPAEDIA - 1786 with Supplement by Abraham Rees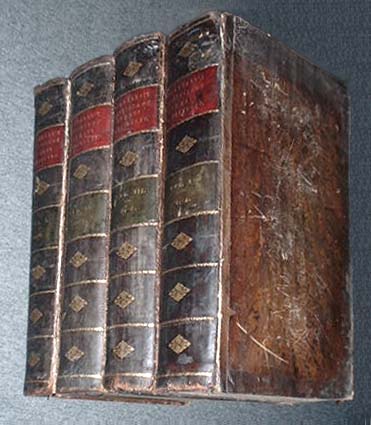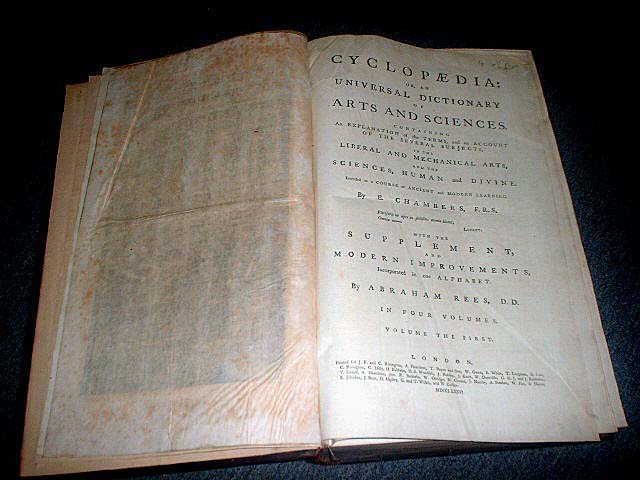 Authors: Chambers, Ephraim with supplement by Rees, Abraham

Title: Cyclopaedia: or, and universal dictionary of arts and sciences with the supplement, and modern improvements incorporated in one alphabet [4 volumes].

Publisher: London: J F &C Rivington, 1786.

Book ID: 3820

Price: £200.00

Description:

4 volumes, elephant folio. (44 cm. by 29 cm.) Contents unpaginated, but each volume has well over 1000 pages. Full polished brown calf, gilt-tooled spines, red morocco title labels with gilt titling. All corners worn, front board of volume 1 detached, rear joint to volume 2 beginning to crack, contents VG. I don't know how many plates this set would have had, but there is only one now (frontispiece to volume 1). Still an extraordinary amount of reference material.

Price: US$ 363.02

Bookseller: Cornell Books Limited,

93 Church Street,
Tewkesbury,
GLO,
United Kingdom,
GL20 5RS

tel: 01684 - 293337

Open: Tuesday - Saturday 10.30 - 5.00.
Also Bank Holiday Mondays and occasional Sundays 12.00 - 4.00.
Medium-size general stock with an emphasis on topography, children's books and O.S. maps.
On the main A38 near Tewkesbury's historic abbey.
Public car park (one hour free) around the corner in St. Mary's Lane.